Thanksgiving 2001
Lynn's Italian cooking is heavily accented by her family background and traditions. Her French cuisine comes from several years of study, including a session at the La Varenne Acadamy in Paris. She has developed her skills to that fine point that she can cook instinctively, without recipes, based on the ingredients and tools at hand.
Each year for the last 30 years or so, Lynn has put on a Thanksgiving feast for friends and family. The 2001 event was another memorable gathering.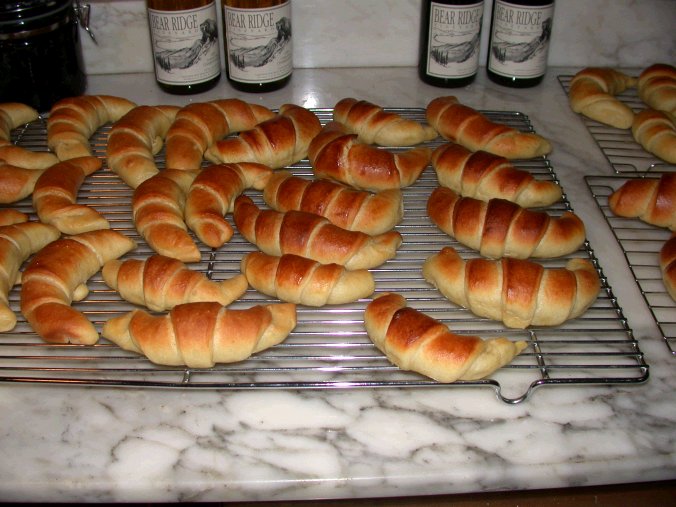 Franny found a recipe for crescent rolls in "Cook's Illustrated" and this was the result. They were a HUGE hit!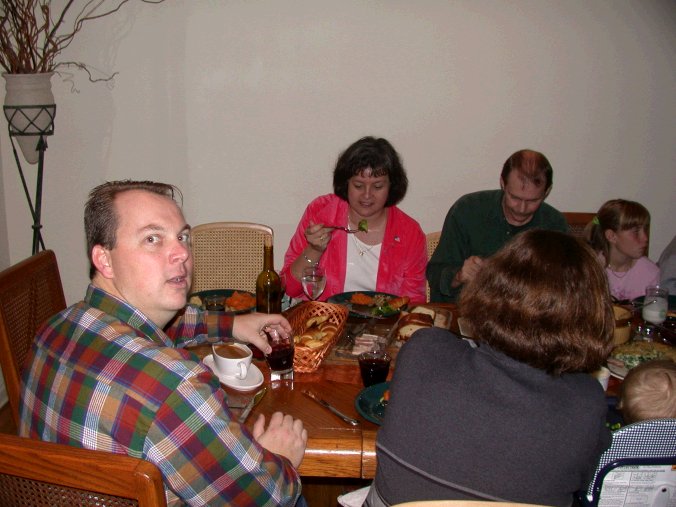 Far side, our out-of-town-from-New-Mexico guests Dave and Theresa with Paige. Theresa's first with us, and Dave's 3rd visit.
Near side, Matt and the baby's first Thanksgiving with us.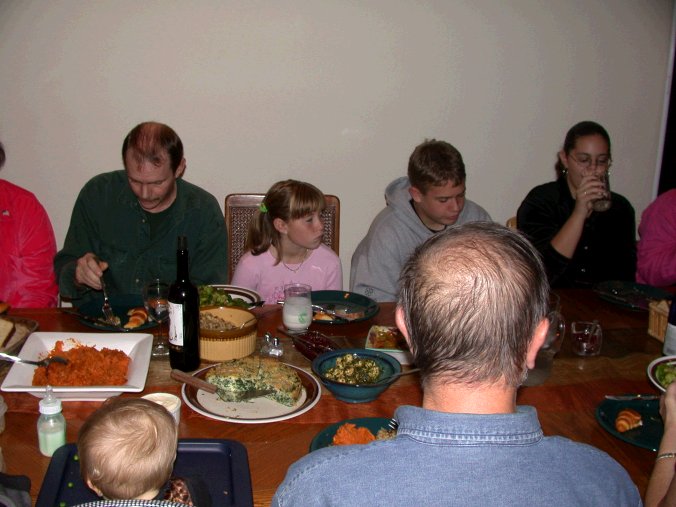 Dave, Paige, Adam, and Samantha engrossed in their meal. Samantha is Theresa's daughter.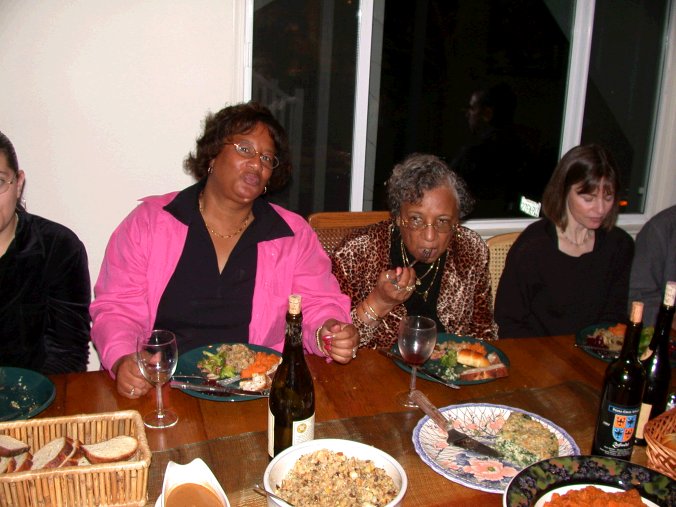 Marsha making THE face, and her mom Sarah's second visit to our Thanksgiving. Phyllis ponders yams.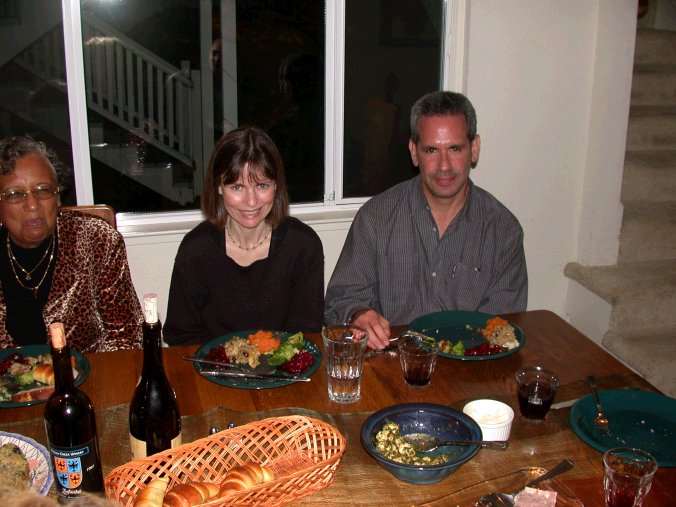 Sarah, Phyllis, and Barry. Barry's mom asked me to take care of her son on Thanksgiving and that started our tradition some thirty years ago. This is Phyllis's second turkey day with us.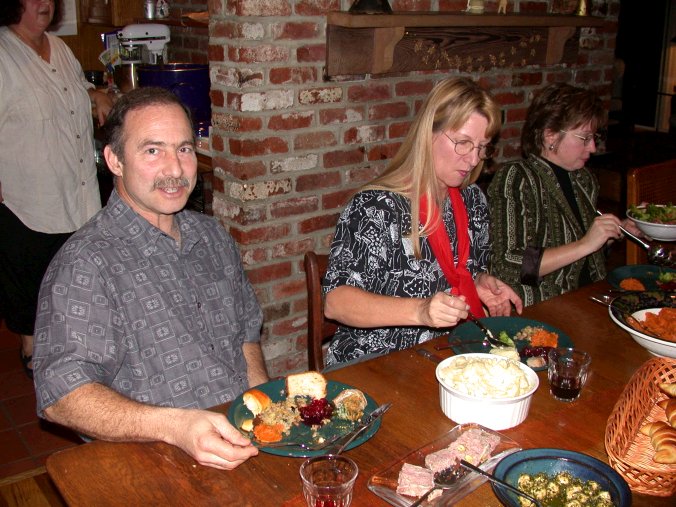 Hidi and Tim skipped their trip to Louisiana and joined our party. Tami is helping herself to the broccoli with pancetta.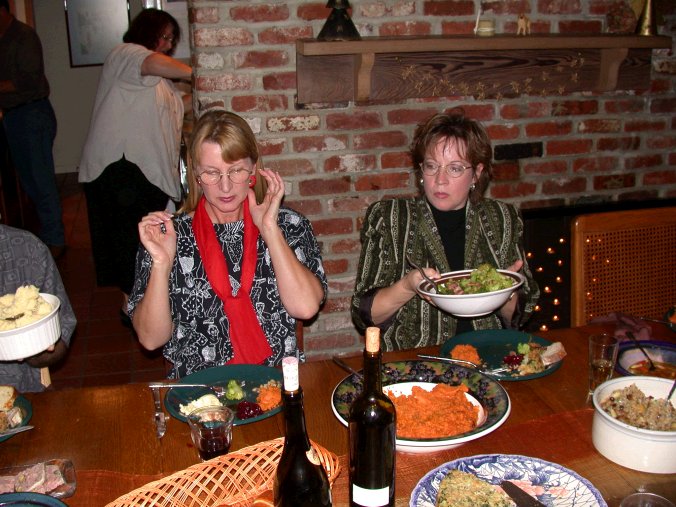 Hidi and Tami, with the fireplace candles in the background.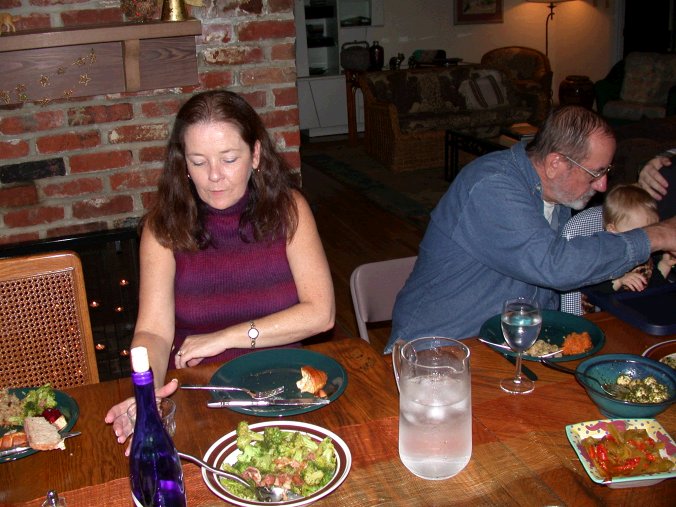 Cathy cleaned her plate, but notice that she's not touching the broccoli! Cathy always manages to tell a few (embarrassing) stories about our growing up in Oakland. Fred helps his new granddaughter with her first Thanksgiving meal. The empty seat to the left of Cathy belongs to her husband, Greg, who's in the kitchen carving the turkey. Why are there no pictures of Greg or the turkey? And there's Fred, hovering over his granddaughter!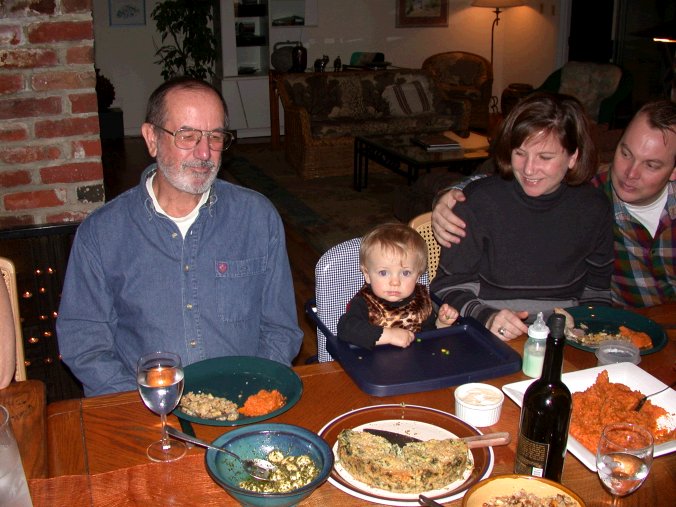 Proud parents Sarah and Matt look on at their daughter, who's cleaned her "plate". Grandpa takes the credit.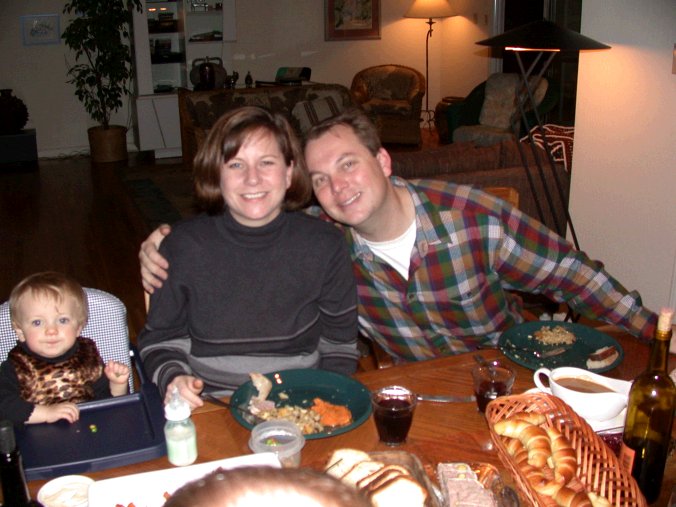 Lilly looks quite pleased with herself and with her parents.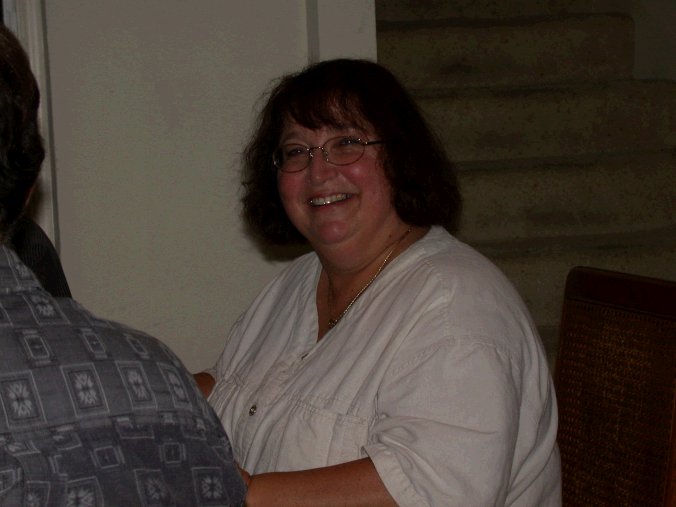 One of the chefs seems to be enjoying herself!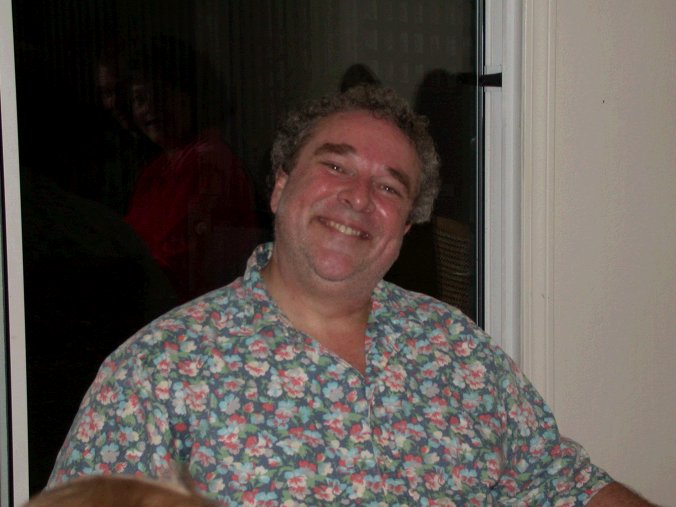 The other chef is also enjoying himself, and he's pretty proud of all of his breads and desserts. There was much to be proud of!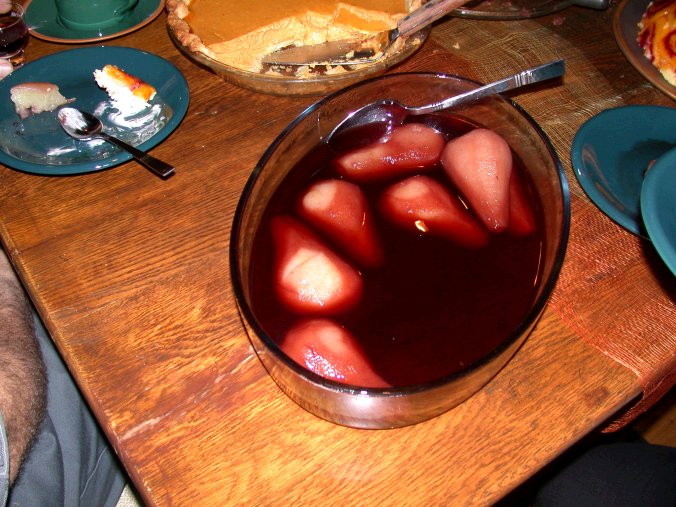 Poached pears are a standard item. Adam loves them and they're also Lynn's favorite dessert.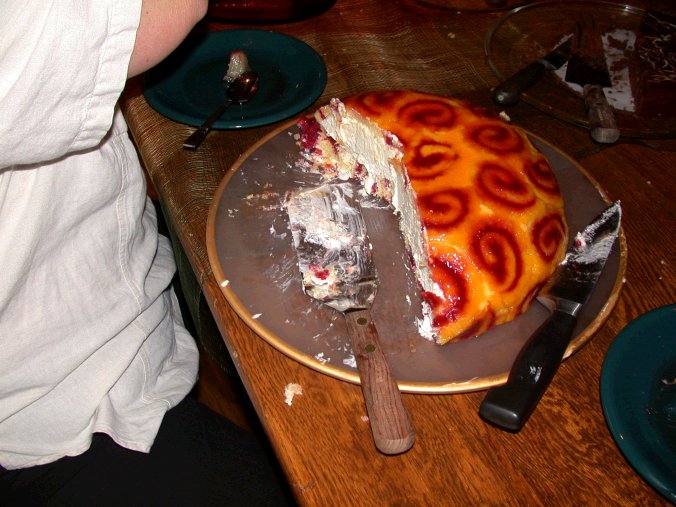 Fran's Cranberry Pinwheel Bombe was a huge success. It was gorgeous, and tasted fabulous. Some of the more irreverent guests called it "The Brain."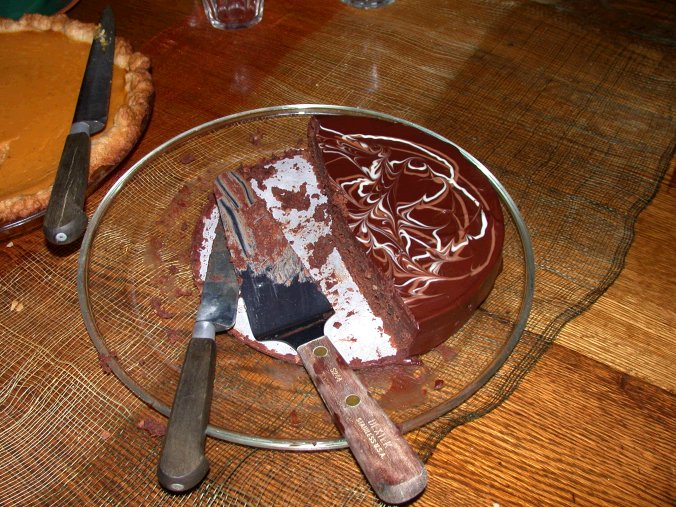 Fran's Queen of Sheba always goes over well with the chocolate fans. It's a near-flourless concoction of chocolate, butter, cognac and almonds.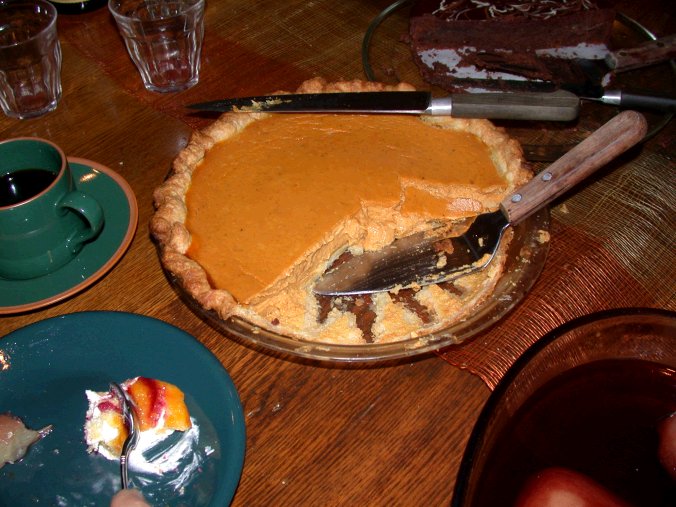 Pumpkin pies by Fran are always a welcome addition, although guests have started to look forward to the more non-traditional desserts.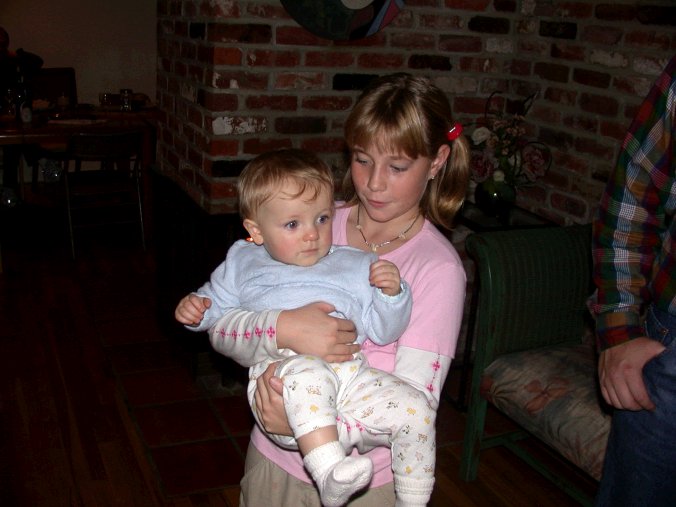 Paige will be a great babysitter some day. The baby loved being with her and she seemed to feel the same way about the baby.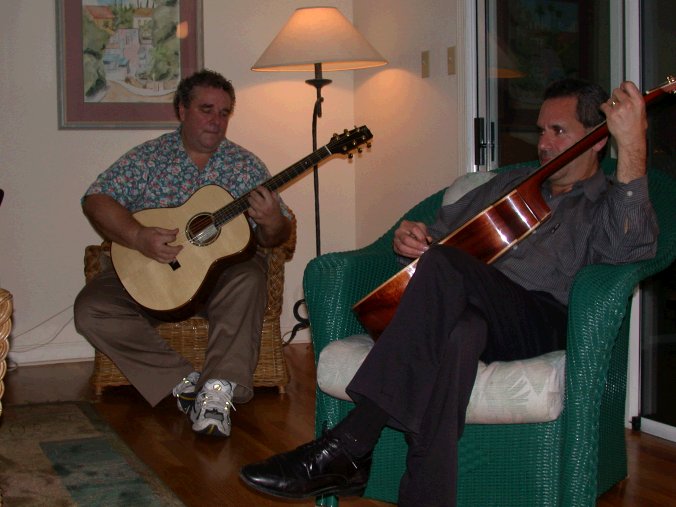 It wouldn't be Thanksgiving without Fran and Barry playing a few tunes. Fran's got his new McCollum and Barry has the Goodall, two of the newer additions to the household.