Hawai`i 2004
The musical side of a marvelous month - page 1
A trip to O`ahu is a wonderful opportunity for adventures of many kinds, and we had our share. We got bashed by the waves at Sandy Beach, sampled island cuisine from the L&L to Alan Wong's, snorkeled and beached our way around the windward side, and even fought the traffic and crowds to go shopping around Waikiki.
We (Lynn and Fran) traveled with our friends "The Bo's" - Jim, Tami, Adam, and Paige Banghart. Lynn, Jim, and Paige were the principal photographers, with the rest of us contributing a few shots. Jim has a pretty complete set of the pictures we shot at his FridayCards website, down in the lower right corner of his picture page.
Here's our home base, a wonderful rental house Lynn found in lovely Lanikai.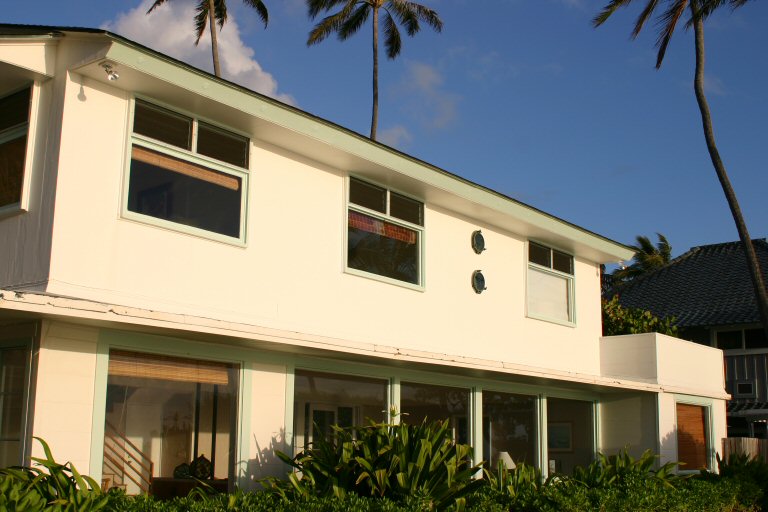 This is a view of the ocean side. Most of the bedrooms as well as the sitting and dining rooms had marvelous views of Lanikai Bay and the Mokulua islands.
For instance, here's one of our sunrises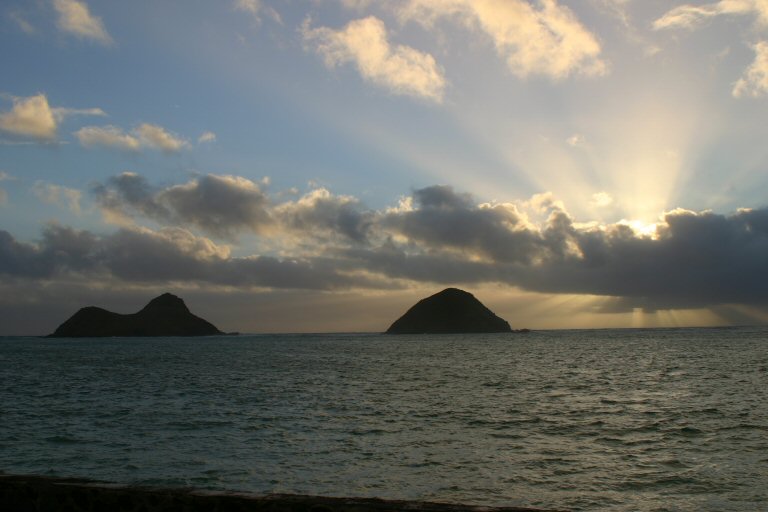 It was worth getting up early for this kind of beauty.
Here are a few members of our party getting goofy ...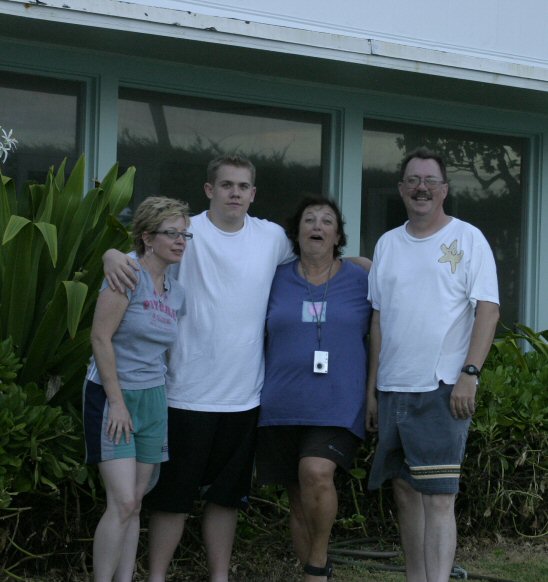 That's Tami, Adam, Lynn, and Jim.
We had a ladder down to the water right behind the house. At low tide we even had a lovely little beach.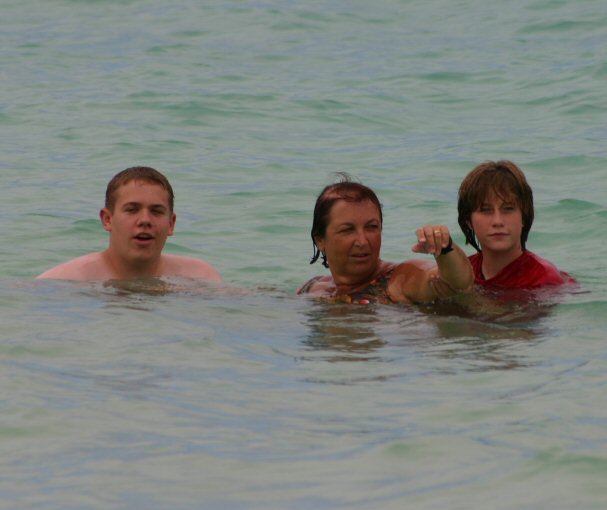 Here are Adam, Lynn, and Paige enjoying a morning dip. We had a tough choice every day between swimming off our beach, going to the gorgeous Lanikai Beach, or cruising for five minutes down to the bigger waves and snorkeling at Kailua Beach.
I brought my Wingert Model E because it's the only guitar I have with a Calton case. It took a while for the guitar to get used to the humidity, but it was nice to have a good playing instrument along.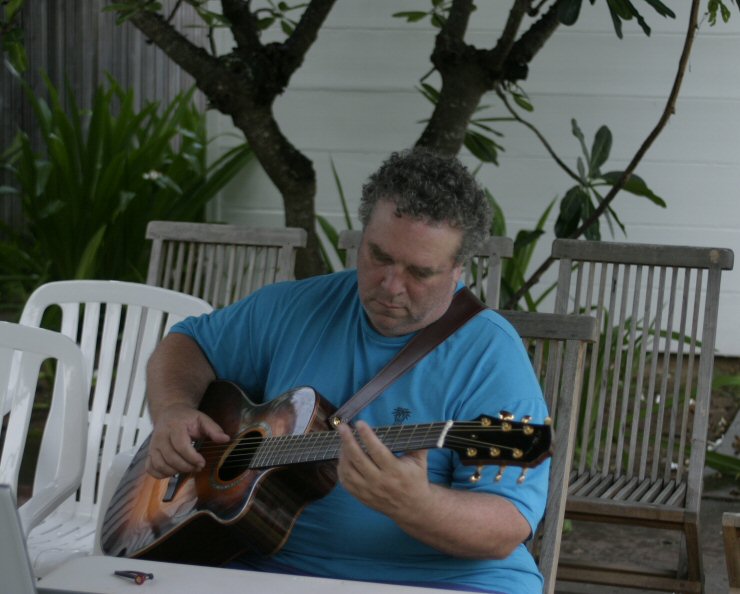 Out on the lanai, in Taropatch, naturally.
Lynnie is a natural musician with terrific rhythm. When I show her a few chords on the ukulele she can immediately play a tune.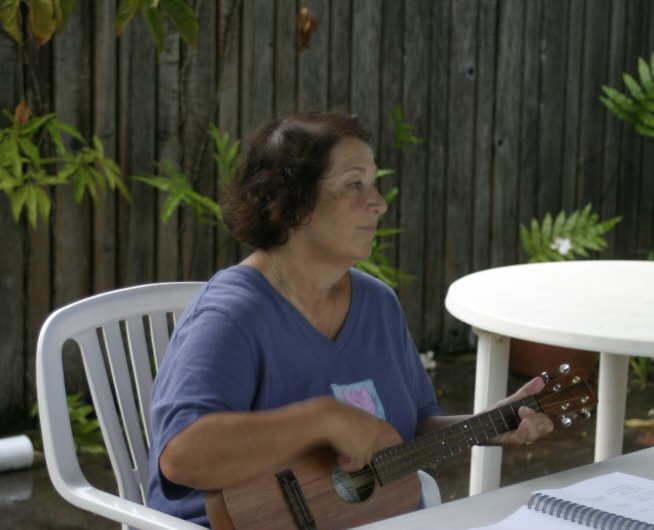 I brought two ukes along so I could have one high G and one low G. This is the Ko`olau tenor with low G tuning.
We took several trips to the North Shore for snorkeling at Pupukea.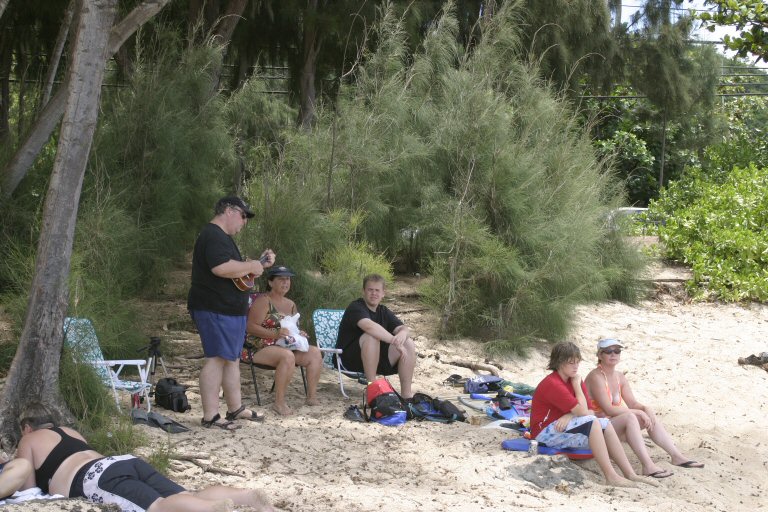 Naturally I brought a uke along. This is the Kanile`a tenor strung high G.
We had to sample shave ice at a few places. We really enjoyed Island Snow in Kailua, but we were in Hale`iwa so we made the pilgrimage to Matsumoto's.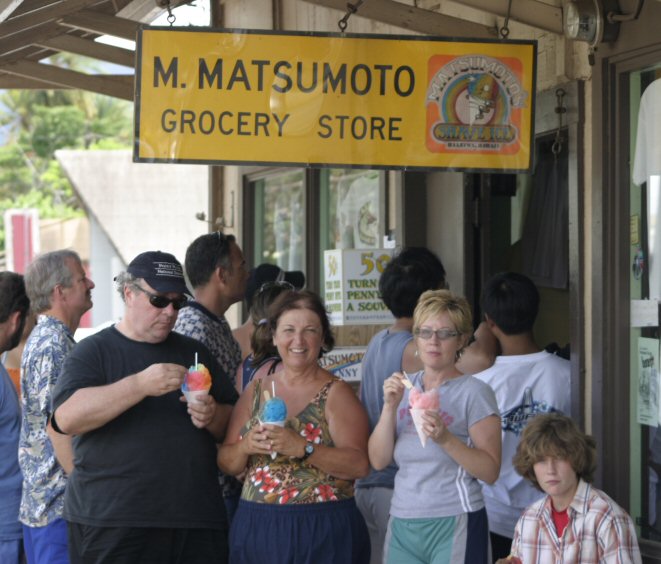 The line is long, especially if a bus or limo has just landed, but they have a great system to keep the line moving. We decided we like the syrups at Island Snow better.
And we certainly stopped at Giovanni's shrimp truck on the way back from the North Shore.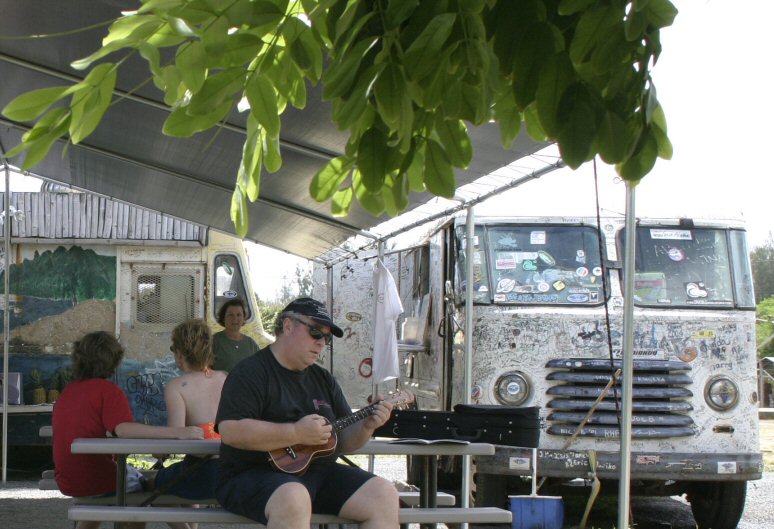 I didn't get a discount for providing free entertainment, but at least they didn't charge me extra.